If you are new to the Radio Manager and want a quick overview, this Getting Started Guide is made for you. Here we will present the main features of the Radio Manager and show you how to configure and use it.

You will find many tips and tutorials that will help you use your Radio Manager. If you haven't activated your free 14-day demo yet, now's the time to do so. You can activate it by clicking here. If you already have an active radio, click here to go directly to the Radio Manager.
PRESENTATION OF THE INTERFACE

After logging in, you will access the Dashboard of your Radio Manager where you will find the main information about the current status of your Radio. You will arrive on this screen after each connection.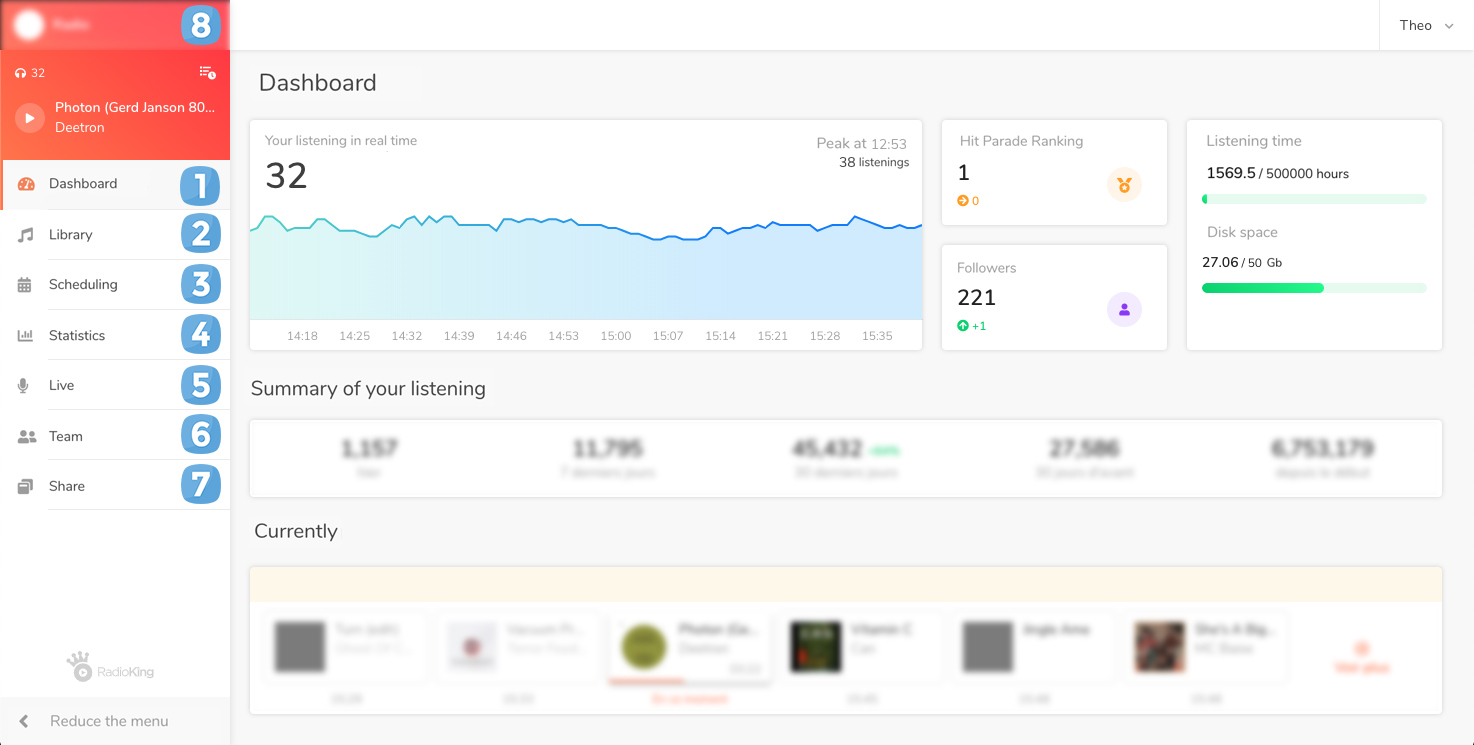 In the menu on the left-hand side are the icons and names of the tabs that allow you to access certain parts of the Radio Manager, which we will describe in more detail later:

1 - Dashboard allows you to keep a global eye on your radio.
2 - Library allows you to add content to your radio.
3 - Scheduling helps you organize your broadcasts.
4 - Statistics allows you to analyze your audience.
5 - Live allows you to broadcast live on air.
6 - Team manage the access rights of your team members.
7 - Share offers you a set of elements to boost your audience.

In the top left corner of this menu, you can click on three small dots next to the name of your radio (8) to access the settings of your Radio Manager. The settings will allow you to change your radio's logo, name or location for example.

ACTIVATING YOUR RADIO STATION

Whatever the type of radio you want to create, we recommend that you follow the steps below to get to grips with Radio Manager and discover all the possibilities it has to offer.

A] LIBRARY


To get started, we invite you to go to the Library tab of your Radio Manager.

The Library represents the heart of the Radio Manager. We therefore recommend that you update it carefully and regularly. It is in this part of the Radio Manager that you will upload your files, edit their metadata and sort them into specific trays or playlists. To understand how it works, you will find some essential tutorials below:

• How to add a file
• How to edit and manage your files
• How to edit the mix points of a file
• How to create and use Tags
• How to manage the filters
• How to create a playlist


⚠️ Before we move on to the planning section, make sure you've imported your first songs and created your first playlist. In this second part, we will explain how to broadcast it.


B] SCHEDULING


The Scheduling Tab can seen overwhelming at first, but in reality it's child's play! This section is made up of 5 different parts: Programs, Breaks, Planning, Daily Generation and History.

• Programs allow you to create the template of a show. You can easily organize your time slot with a mix of various content and check the result at a simple glance.vous proposent de créer le plan d'une émission. Find out more about Programs

• Breaks allow you to easily program your jingles, adverts, hourly announcements or any short audio intervention with a simple click. Simply determine the time of passage and the repetition of your Break and the Radio Manager will apply your instructions. Find out more about Breaks

• Planning allows you to organize or orchestrate the distribution of your content on a calendar. For example, if you have made a playlist as we asked you to do in the previous section, you can schedule it with a simple drag and drop so that the Radio Manager plays it at the desired time. Find out more about Planning
• Daily Generation is probably the most important part of the Planning tab. It allows you to view and modify your schedule to the second, but most of all, it allows you to apply the changes you have made in the other sections! Find out more about the Daily Generation

• History allows you to easily export a broadcast report. This can be particularly useful for your declarations or archiving of your broadcasts. Find out more about History

To understand how to schedule the content of your radio station, you can take a look at these tutorials:

• How to schedule a jingle
• How to schedule an hourly announcement
• How to schedule a recording/radio show
⚠️
You now know everything you need about the
Planning tab! Don't forget that it is essential to regenerate the days already generated if you wish to make any changes to the scheduled content of your radio station.

C] LIVE
Now that you've mastered the scheduling aspect of your radio station, we can now move on to what you've probably been waiting for... live broadcasting!

In order to broadcast live on your radio station, you must have a USB microphone or a mixing desk & microphone connected to your computer, or a computer with a built-in microphone. If you do not have any of this equipment, we invite you to skip directly to [D] SHARE.

If you're ready, head over to the Live Tab of your Radio Manager and follow the steps in the tutorial below:

• How to broadcast live with Mixxx


So, you now know how to schedule your content and broadcast live! We are now going to take a look at how to share your radio with your entourage and your future listeners.


⚠️ If you would like to use another live broadcasting software to go live on air, we recommend that you follow this link to discover other software.

D] SHARE
Your radio is ready, all you have to do is share your audio stream with your listeners. This stream is translated into a listening link that you can find under the Share tab of your Radio Manager. This is the link that you'll share on social networks or integrate into online directories, websites and applications.

• How to share my radio station to my listeners?
• How to add my radio stations to various online directories?

In your Radio Manger you will also have access to a radio player that you can embed onto your website:

• How to customize and export the Radio Player?

The Share Tab also offers a number of other Widgets.


AND NOW?

The Radio Manager is packed with other features that you will discover soon enough, such as advanced statistics, geoprotection or broadcasting constraints. To discover all its features, we invite you to browse through our knowledge base. Our team is also at your disposal to help you if you have any questions or if you encounter a problem.

We also invite you to take a look at our courses in the Radio Academy, as well as the various articles available on our Blog to help you realize your project in the best possible conditions.


HOW TO ACTIVATE MY SUBSCRIPTION?

Do you want to subscribe to one of our offers and keep your work? Great! Simply head over to your Customer Area and click on My Radios.





Click on Buy this demo and select one of our offers. With all of our offers, there's no commitment! You can stop your radio subscription at any time via your customer area.


We hope that this guide was helpful and we wish you a wonderful adventure with the Radio Manager!