Learn how to combine songs without interrupting your broadcast, add fade-ins, fade-outs, specify the start and/or end moments of the tracks.
Make your broadcast more professional!
Mix points are individual settings for each song, to better manage their transitions. This makes it possible to sequence two files together without having breaks in your broadcast. When a song is uploaded to the Radio Manager, the mix points are calculated automatically if the option is enabled (Settings > Broadcasting > Enable automatic mix points). However, you can check or even edit them yourself by following the steps below.
Mix points are not obligatory, for example, clips can be trimmed without having a fade-in. Furthermore, all mix points are independent.
Edit a mix point
Play a mix point

EDIT A MIX POINT
Go to your Music Library

Right-click on the track you want to modify

Click on edit mix points
Click on a specific moment in the title, then click on one of the 5 mix points of the desired
Here are the details of the 5 possible mix points:
Start: this is your intro, this is the position where the file will start (what comes before will not be read)
End: this is your outro, this is the position at which the file will stop (what comes after will not be read).
Mix: the position in that song will trigger the broadcast of the next song. However, the broadcast of the current song will not be stopped, so the two songs will be overlapped until the End point.
Fade in: if you add one, the volume will fade in from the Start point up to the Fade In point.
Fade out: if you add one, the volume will fade out from the Fade Out point up to the End point.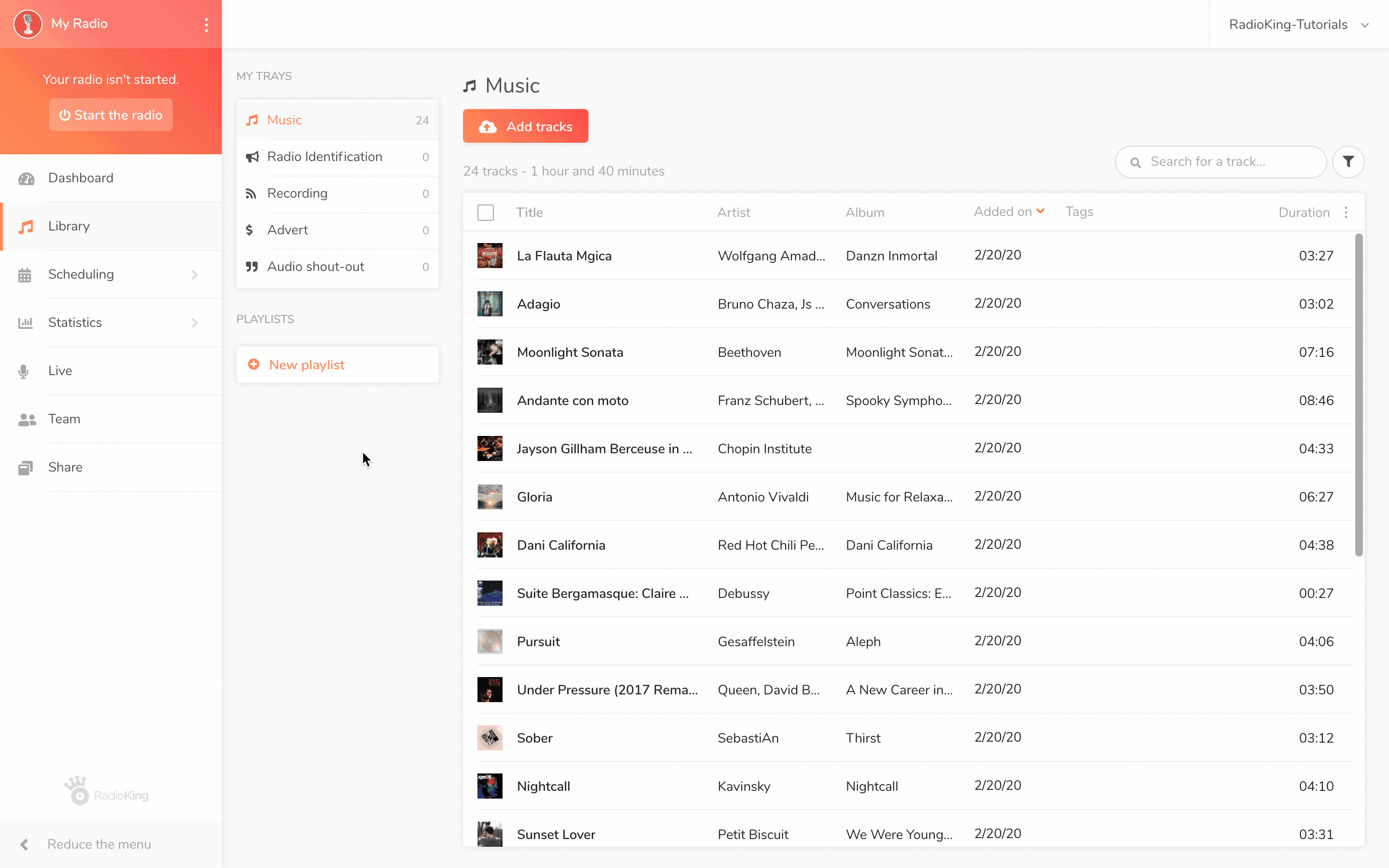 Top Tips:
• You can zoom in on your mix points so that they are set exactly where you want them.
• You can also delete your mix points by clicking on the bin icon next to the name of the mix point.
PLAY A MIX POINT
The three playback buttons allow you to:
Play: Play the song.
Play intro: Play the introduction of the song from the Beginning to the Fade-In.
Play outro/mix: Lets you play the end of the song while hearing the fade out and the start of the next clip.
When it comes to testing the mix points, a sample music is provided by default, however, you can choose a song from your music library with the Test the intro with & Test the sequence with fields.