Google Analytics integration code provides detailed statistics on how to use your site by integrating Google Analytics. Here's how to get it in two steps.

Obtaining the integration code
Configuring the code on your Radio Website
OBTAINING THE INTEGRATION CODE FOR GOOGLE ANALYTICS
To get your Google Analytics integration code, visit www.google.com/analytics.

Don't have a Google Account? Head over to https://accounts.google.com/SignUp

Fill in all the necessary information and click on Next Step.

Once on the Google Analytics home page, click on Sign In, enter your email and password and click on Submit.

To start analyzing your traffic, click on Sign up on the right side of the page.

In the What parts do you want to track section? Select Website and then fill in:
The name of your radio website
The URL of your website
The category of your website (Multimedia and Entertainment)
Your time zone
The name of your account (this can be the same as the name of your radio website).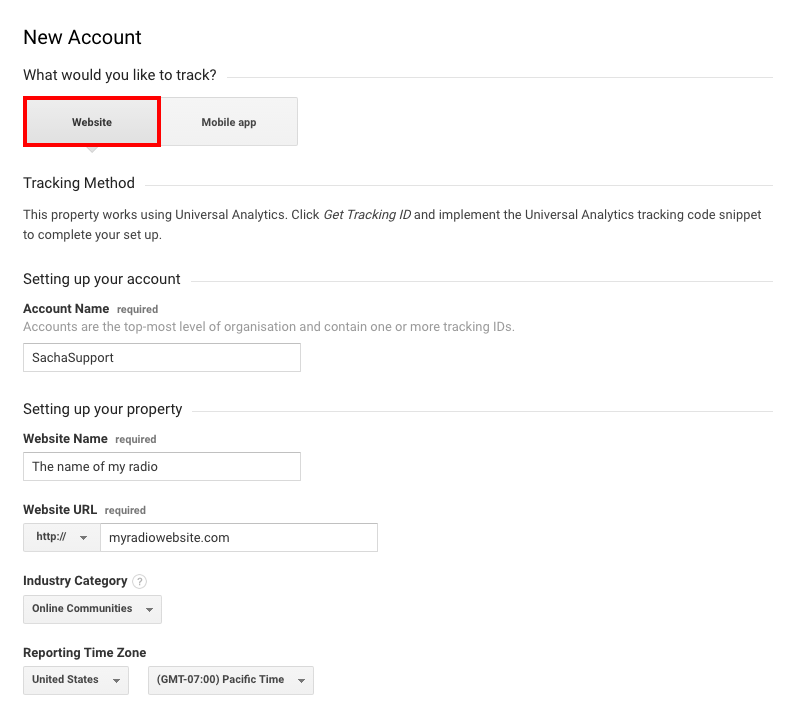 After completing the form, click on the Get Tracking ID button to validate the creation.

You should then be redirected to the details of your website. The Google Analytics tracking code can be found on this page. It is this code that you will need to use to configure your radio website.


CONFIGURING THE CODE ON YOUR RADIO WEBSITE
Now that you've retrieved Google Analytics integration code it's time to set up your radio website.

Click on Parameters > Configuration in your website admin.

In the External APIs tab, go to the Statistics field and paste the Google Analytics integration code you previously retrieved into the Google Analytics Integration Code field and click the Save button to validate.
Your website is now configured to use the Google Analytics statistics service.