iziCast is an application that allows you to broadcast live on your radio station via your iPhone/iPad. You can download iziCast via the App Store for £6.99/$7.99/€9.99.
Getting started with iziCast
Before we dive into the configuration of iziCast, let's take a look at the interface: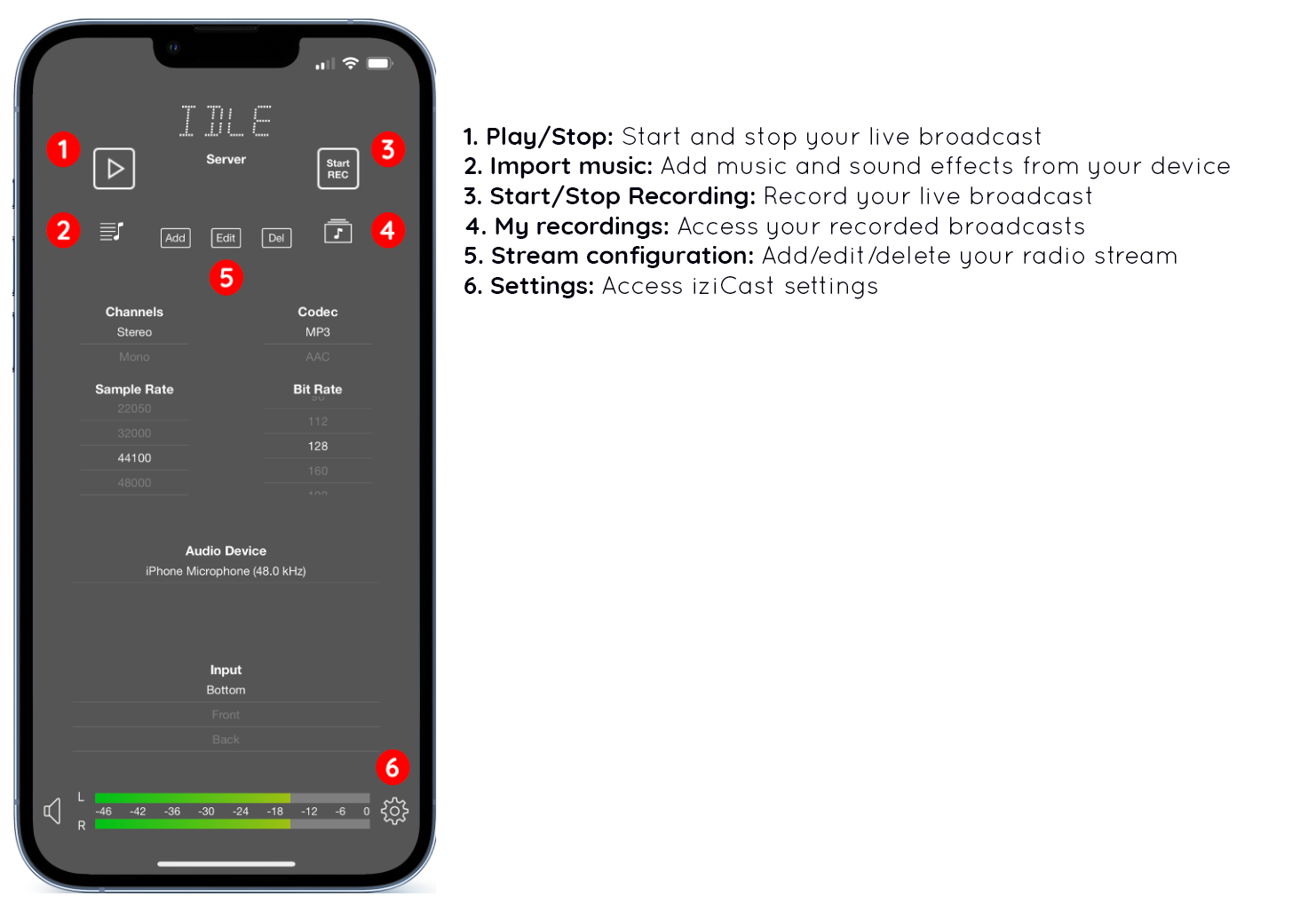 Configure iziCast
To configure iziCast you will need your Live Connection Information which can be found under the Live Tab of your Radio Manager.
To begin the configuration, click on the ADD button and select your server at the top (Icecast). You'll then need to complete the details below: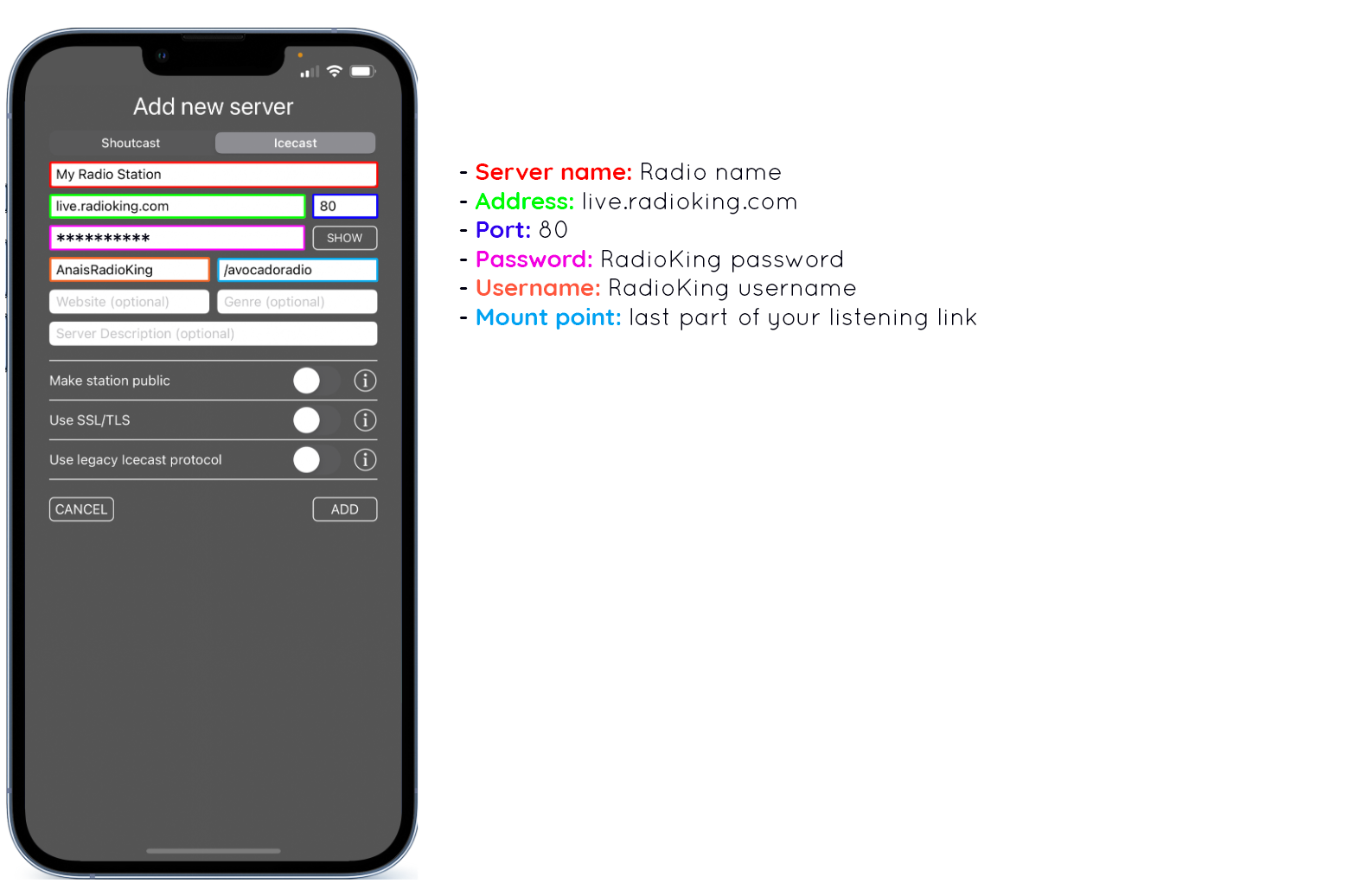 Once you have entered your information, click on ADD.
Broadcast live on iziCast
To begin your live broadcast, press the PLAY button, bear in mind that it may take a few moments to connect.
When you are successfully broadcasting live, a duration timer and a green ON AIR mention will appear in iziCast. You'll also see the LIVE mention in your Radio Manager. To end your live broadcast, simply press the STOP button.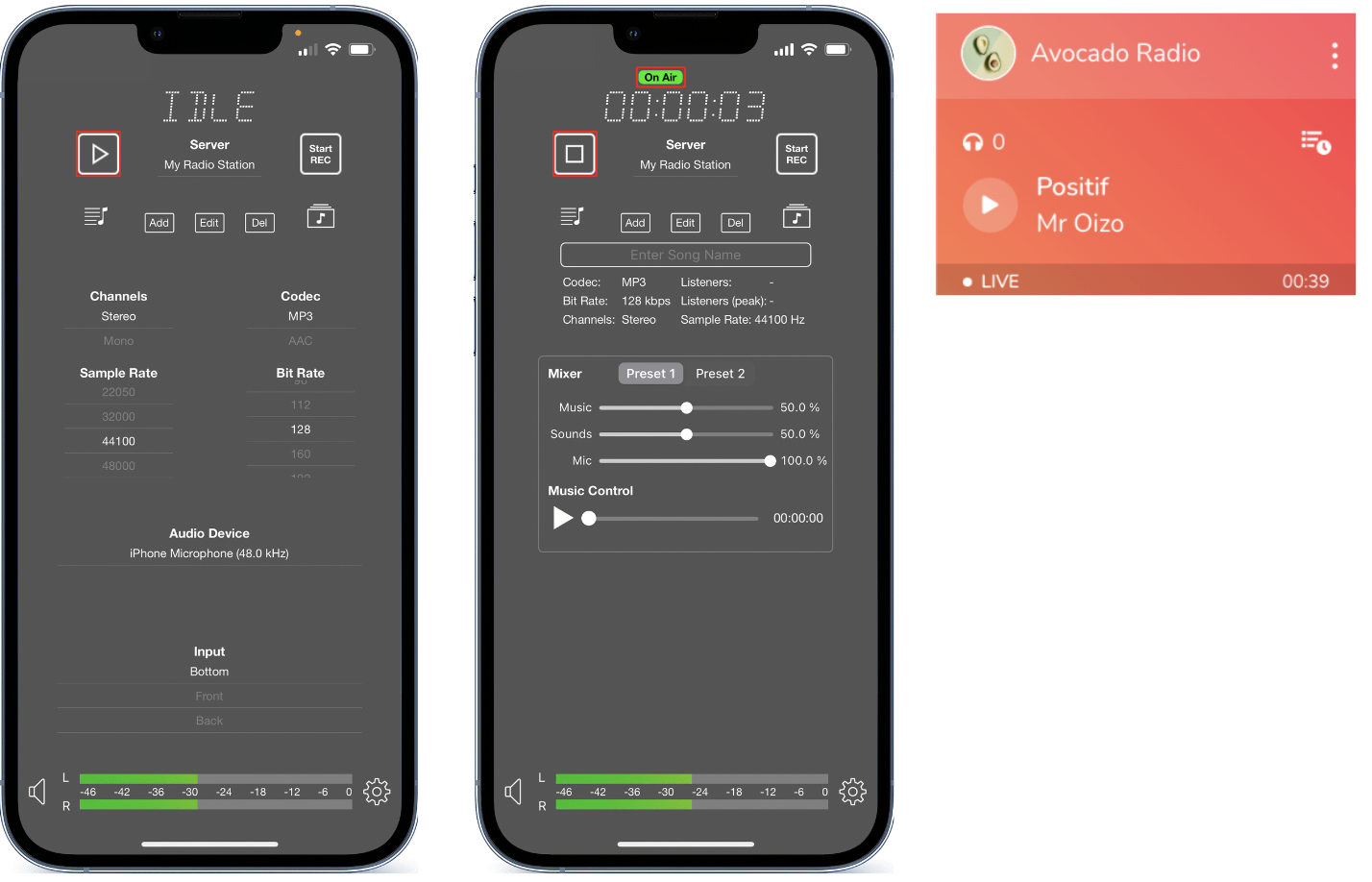 Once you are live on air, you'll be able to perform basic mixing and adjust the volume fader of your music, sounds, and mic thanks to iziCast's mixer.
Note: By default, your device microphone will be used as an input source. Don't forget to set your microphone fader down to 0% to mute your mic.
Music and Sound effects
iziCast also allows you to broadcast music and sound effects directly from your iPhone/iPad storage or music app!
Click on the IMPORT MUSIC button (under the play/stop button) to add songs from your device
Change the playing order of your content or select shuffle mode
Add sound effects to the on-screen soundboard by clicking on SOUNDS (this can come in handy for broadcasting jingles, adverts, or other short audio interventions)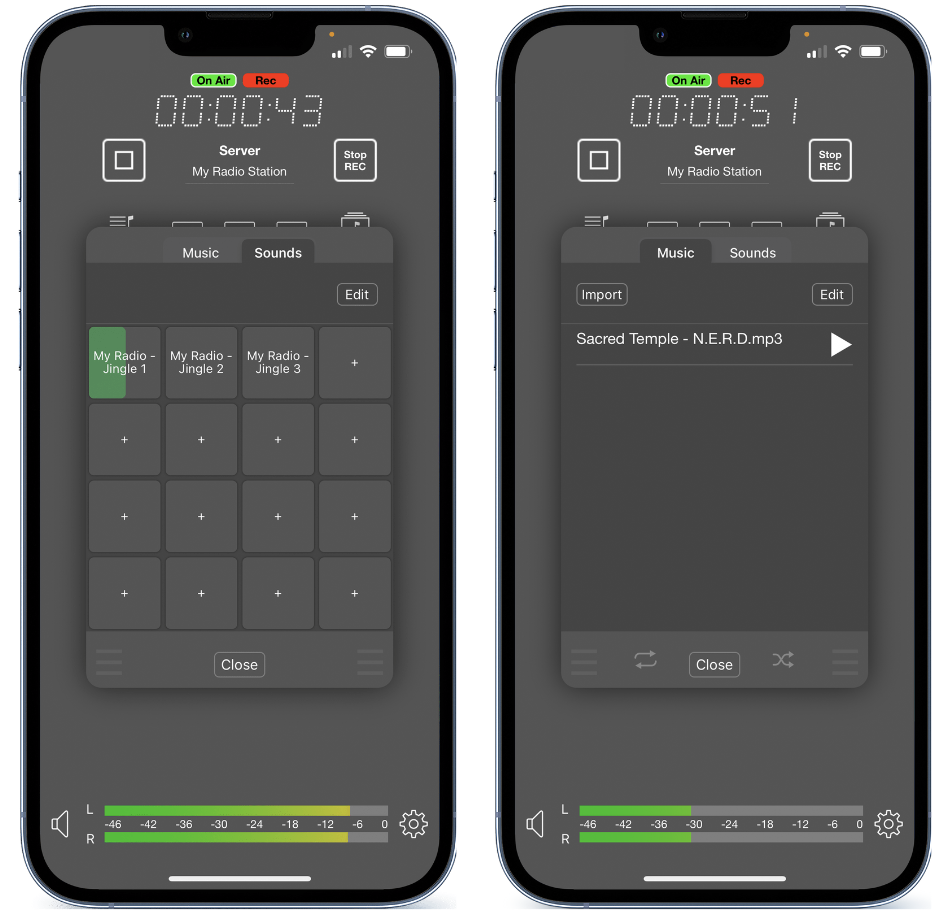 Record your live broadcast
Easily record your live broadcast by hitting the START REC button in the top right-hand corner, and hit STOP REC when you're finished. You will see a red REC symbol to confirm that your radio show is being recorded.
Top Tip: Go to Settings and activate the 'Start recording automatically' toggle to ensure that all of your live shows are saved.
All of your recordings are saved in iziCast, under the Recordings icon (under the STOP REC button). They are automatically saved in MP3 format and can be shared directly via iPhone apps such as Airdrop, Messages, Mail, etc…
Using a USB audio interface with iziCast
iziCast allows you to connect a USB mixer or audio interface with a Lightning to Camera Adapter. This will allow you to enhance the audio quality of your broadcast!
Connect your adapter to iziCast (your screen should flash while the app scans your device)
Your USB Mixer/Interface will appear under Audio Devices
Select your mixer from the Audio Devices and then select the input
You're now ready to broadcast live on your radio station via your iPhone or iPad!