You can change various elements in the appearance of your Pro Radio Player.
First of all, we provide you with 3 formats (mini, medium and large) so that you can integrate the format that best suits your website design
To change its design, simply click on this link: https://www.radioking.com/create-radio-player-broadcast and log in to your RadioKing account if you have not already done so.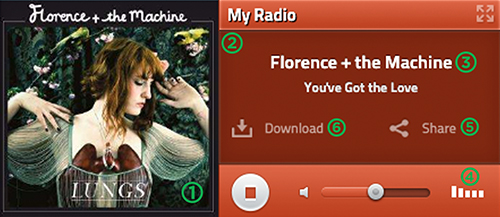 In the Design section you can add:
A default cover (1): this allows you to still display a cover in case there is no automatically retrieved title cover.
One background color (2): To make your Pro Radio Player Radio match your graphic design, you can change the HEX color code.
In the Options section you can:
Display title (3): this is the title of the current music and its artist.
Show the album cover (1): this is the cover of the current music, if it is not automatically retrieved, it will be the default cover.
Display equalizer (4): this is the animation showing the frequency of the title.
Allow opening in pop-up: if you want your Pro Radio Player to appear when you open a window on your website, you will need to make sure that this button is enabled.
Show sharing button: enabled, it will allow you to share the current title on Facebook, Twitter and via email.
Display the buy button: if you want to allow your listeners to buy the current track on iTunes and receive a counterpart on this purchase, you will need to have an iTunes affiliate ID, but also make sure that this button is enabled.