If you want to create a mobile application for your radio station, this guide is for you!
We'll be presenting our online app simulator and explaining how to use it to create your own mobile application on Android and/or iOS.
You can follow our video tutorial here:
RadioKing will compile all your information to develop your mobile application, but you are the one who will publish it on your own developer account.
CHOOSING A NAME FOR YOUR MOBILE APP

Do you want to start the creation of your mobile app? Click here!
If you have already started creating your mobile app, you can find your draft app in your Customer Area > My Apps.

To start, you will need to choose a name for your application. We recommend that you enter the name of your radio so that your listeners can easily find you on the different stores. Therefore, it is possible that the name that you want to choose resembles to already existing apps. We invite you to check on Google Play and the App Store if the other apps will not cause you indexing issues.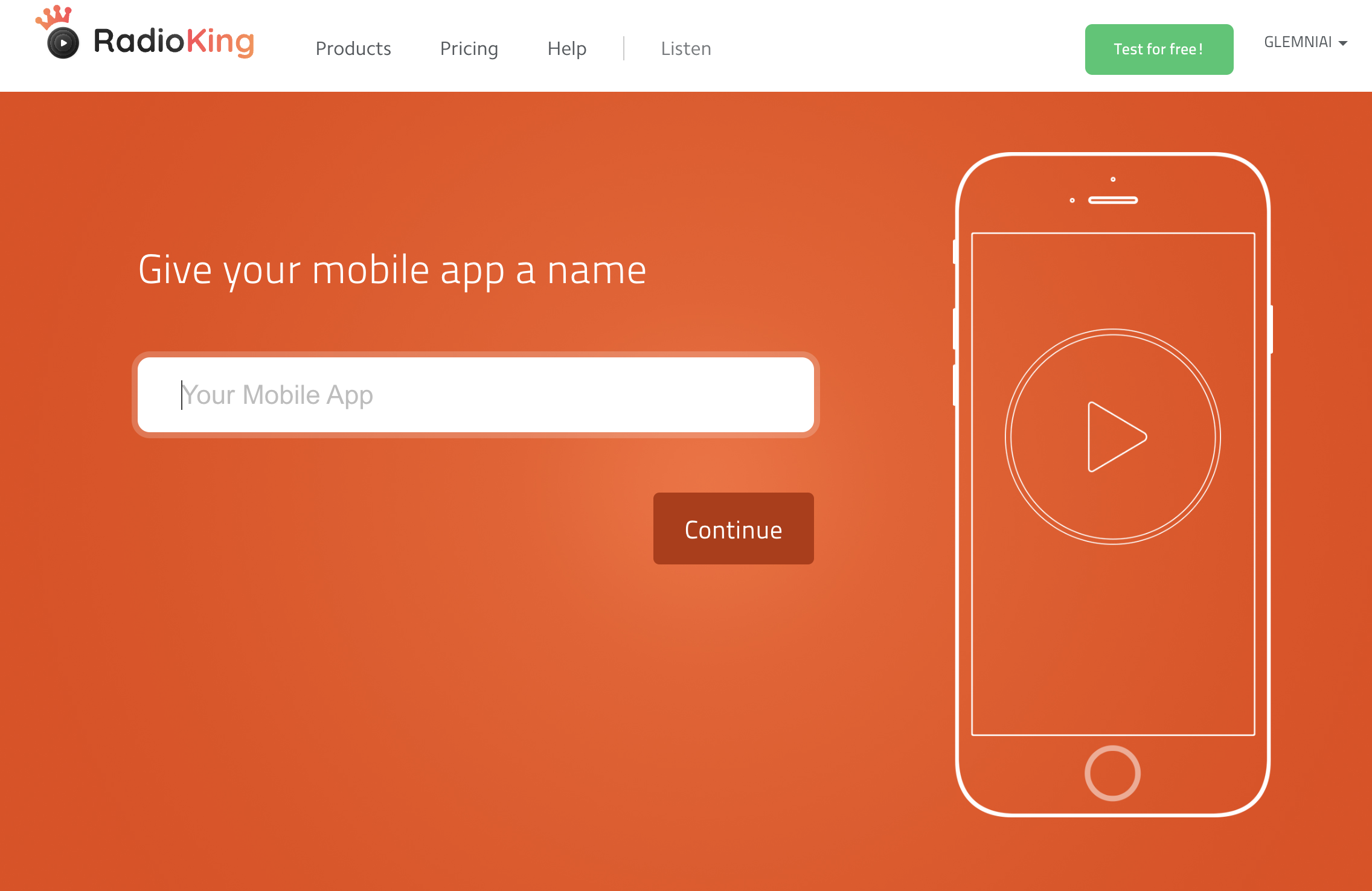 Are you encountering an issue with the name you have chosen?
• This name may already be used by an application on the Apple Store or Play Store. If you are the owner of that application, you can replace it with this one.
•
This name is already used in your drafts. Simply head over to your drafts to redesign your application.

APP DESIGN & CONFIGURATION

To allow each radio to have its own mobile application, RadioKing has designed an online simulator to allow you to design the look and feel of your application yourself.

A] CONFIGURE YOUR RADIO STREAM

To get started, the simulator will ask you to enter your radio stream.
If you don't have a radio station yet, you can create one here.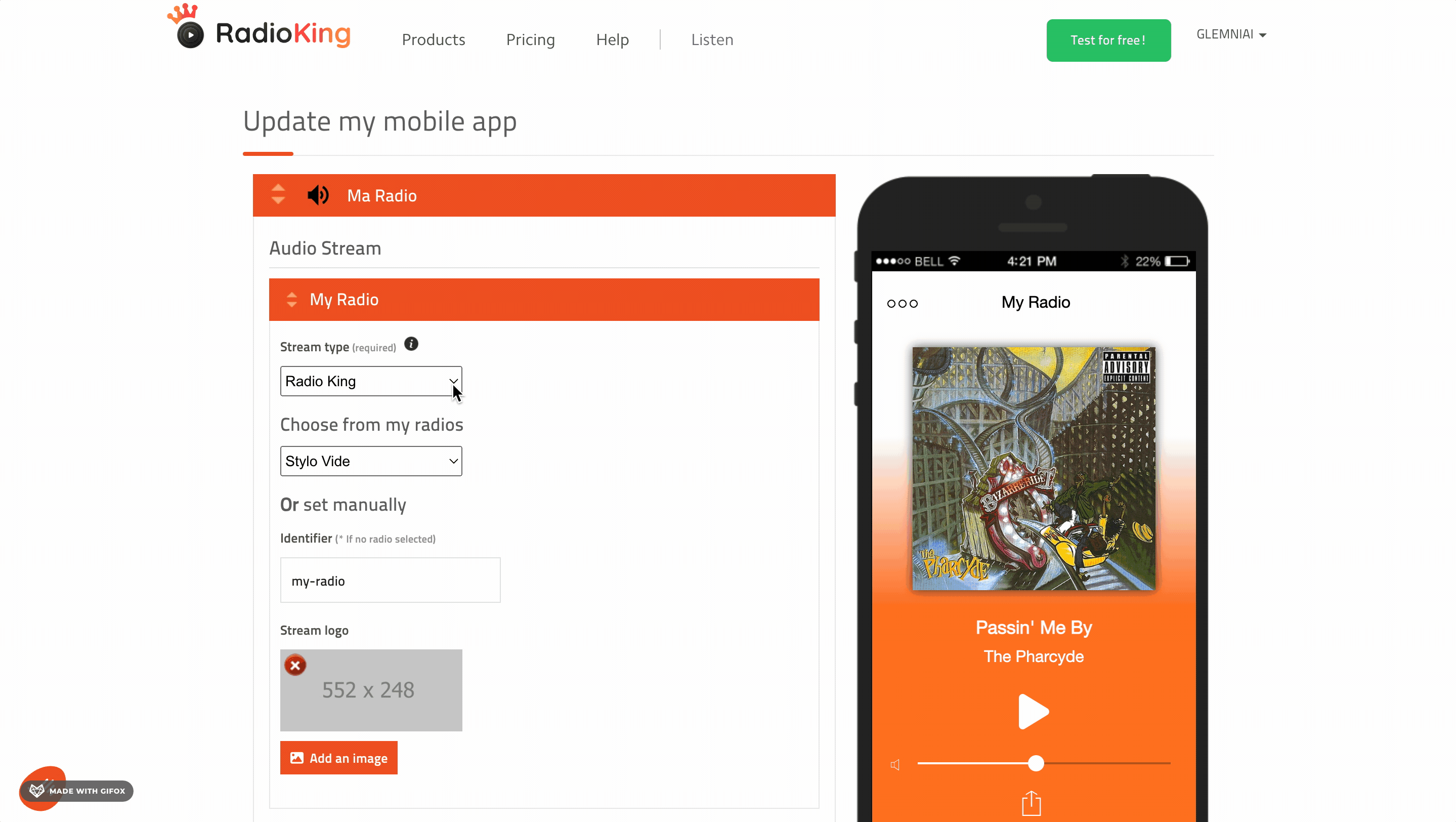 If you need help configuring your radio stream you can learn more here.

The simulator also allows you to add multiple radio streams to your mobile application. You can add as many streams as you like. Your listeners will be able to select the stream they wish to listen to via the menu (at the bottom for theme 1, and on the right for themes 2 & 3.) To add another stream, click on Add a stream.


B] SELECT & CUSTOMIZE YOUR DESIGN


Now that you have configured your radio stream, we can get into the part that you've been waiting for: the design and customization of your mobile application.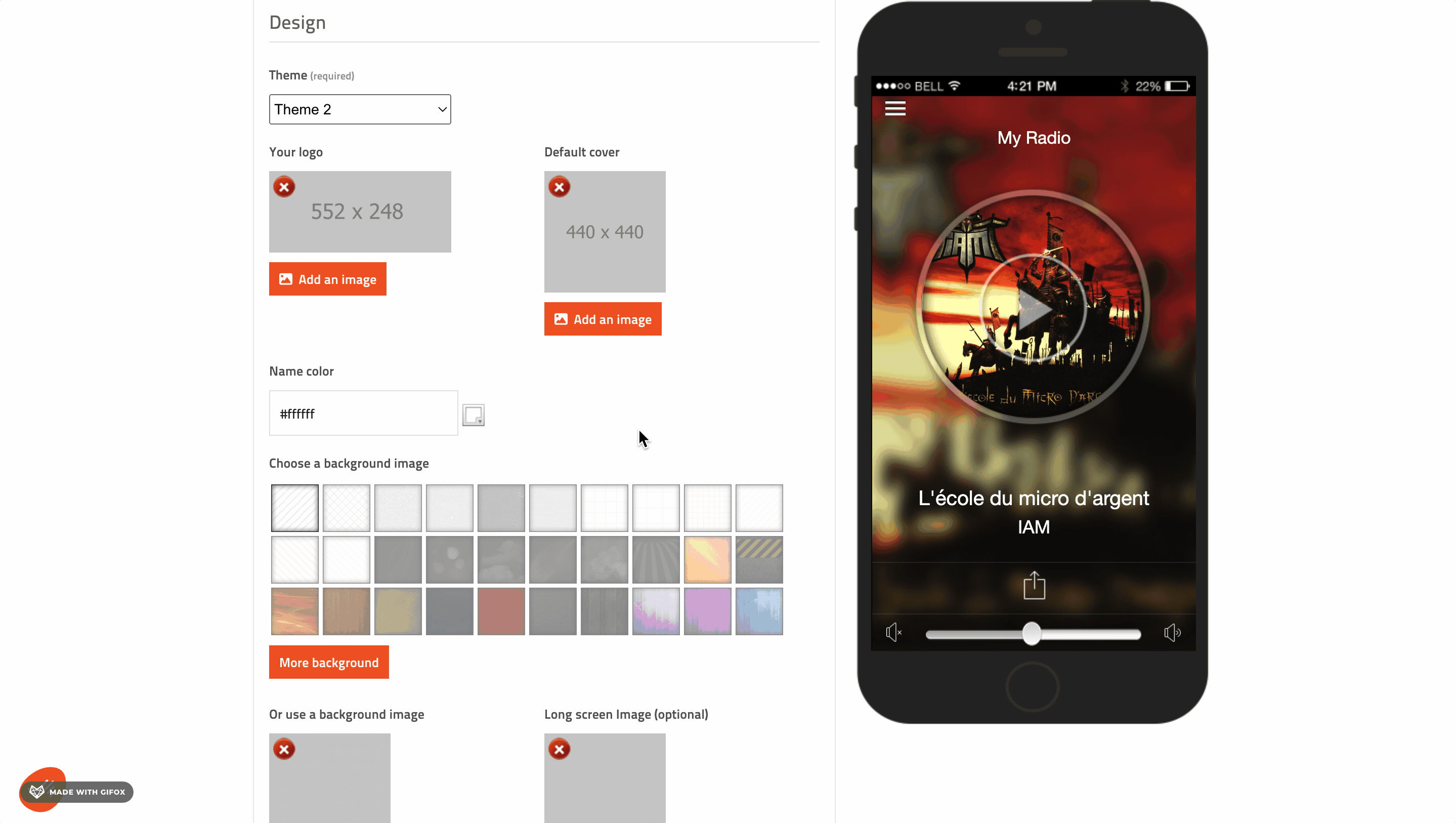 The mobile app simulator proposes 3 customizable themes. It's up to you to play around and let your creativity speak for itself!

C] FEATURES & OPTIONS

Now that your design is ready, let's move on to the features and options of your app.

You can add multiple tabs to your mobile app in order to make it more interactive and encourage your listeners to download it. For example, you can add an RSS feed, quick access to your website, a custom tab and even allow your listeners to send you audio shout-outs if you have a Pro or Business Radio Offer.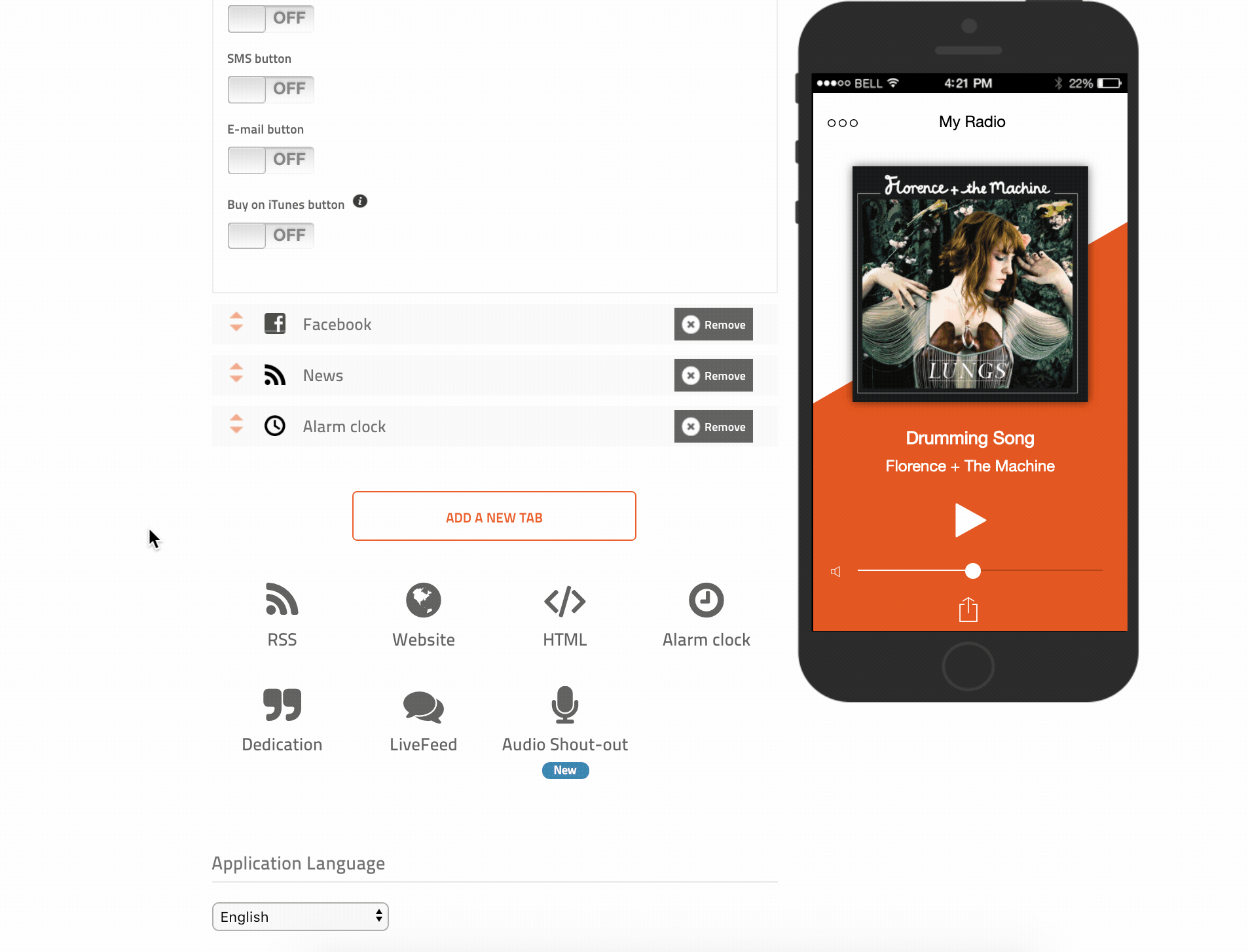 D] CHOOSE YOUR OFFER & PLATFORMS
Your mobile app is nearly ready! All that's left to do is choose which platform(s) you would like your app to be available on:

• If you want your app to be available on Android, you'll need to select our Start or Pro offer.
• If you want your app to be available on Android & iOS, you'll need to select our Business offer.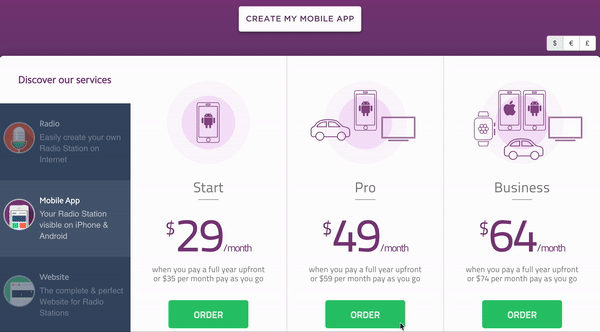 To submit your applications on iOS and/or Android, it is necessary to register as a developer directly with Apple ($99/year) and Google ($25 lifetime). Your application will not require any additional fees for its publication. They are fully integrated in the cost of your subscription.

This step can be done after payment, but must be done to allow you to publish your application:

• Click here to find out how to create your Google Developer Account.
• Click here to find out how to create your Apple Developer Accounts.

E] ICONS, VISUALS & DESCRIPTION

Final stretch. To complete the preparation of your mobile application, you need to add various elements here, such as the app icon, the splash screen or, if you have selected a Pro or Business offer, the visuals adapted for Apple TV and/or Android TV.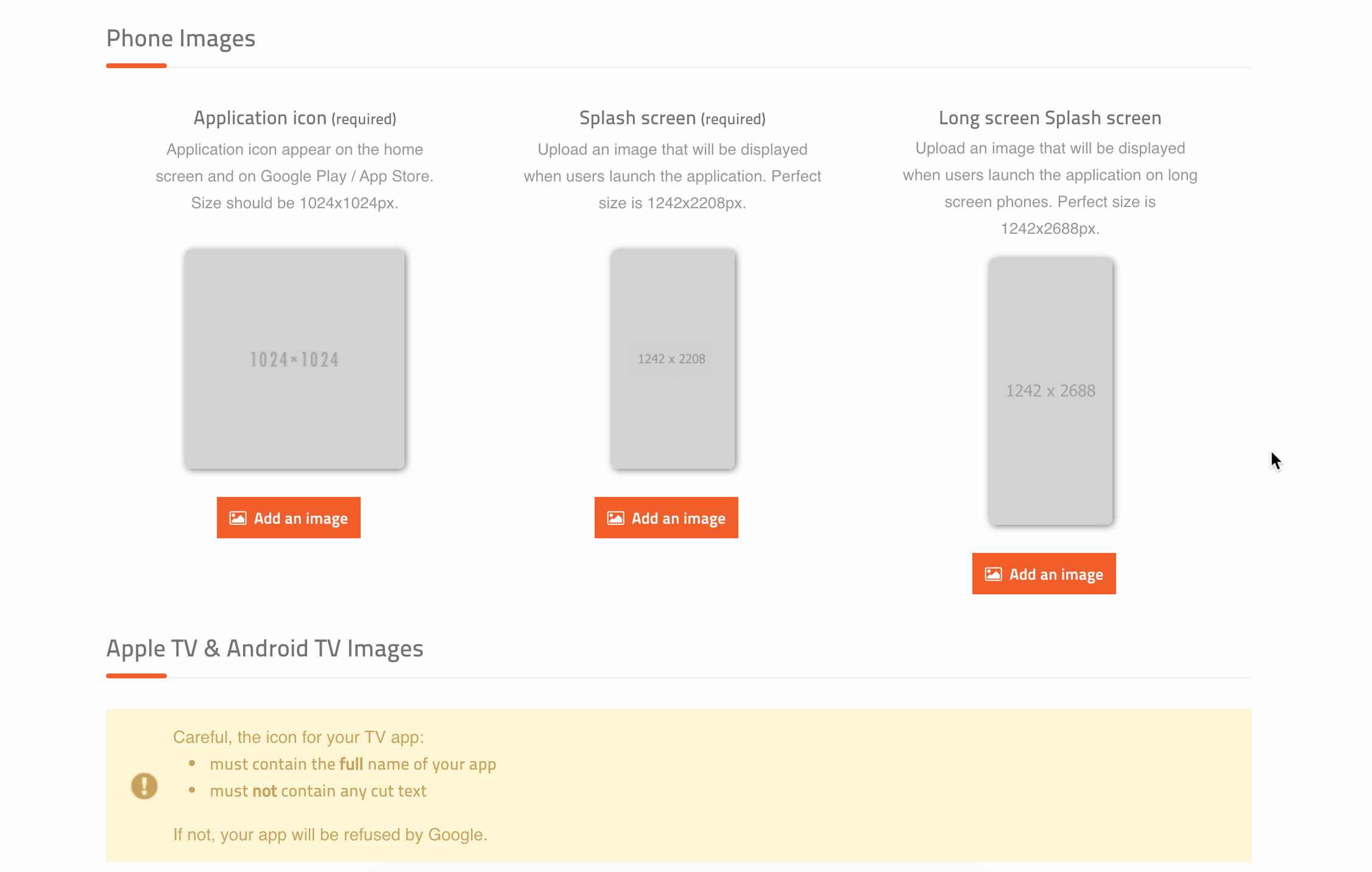 Once the visuals are added, you can write a short description of your application that will be visible on the Apple Store and/or Play Store. This description is essential and can influence the referencing of your application. In the last field, you must also add a series of keywords to make your application easy to find for your listeners or future listeners. The keywords can be related to your radio, its style or musical genre(s).

If you're happy with your mobile app, you can now click on Publish App, choose your subscription and launch the development of your app !

You can find the details of your offer here. If everything is ok for you, click on Add to Cart & Checkout.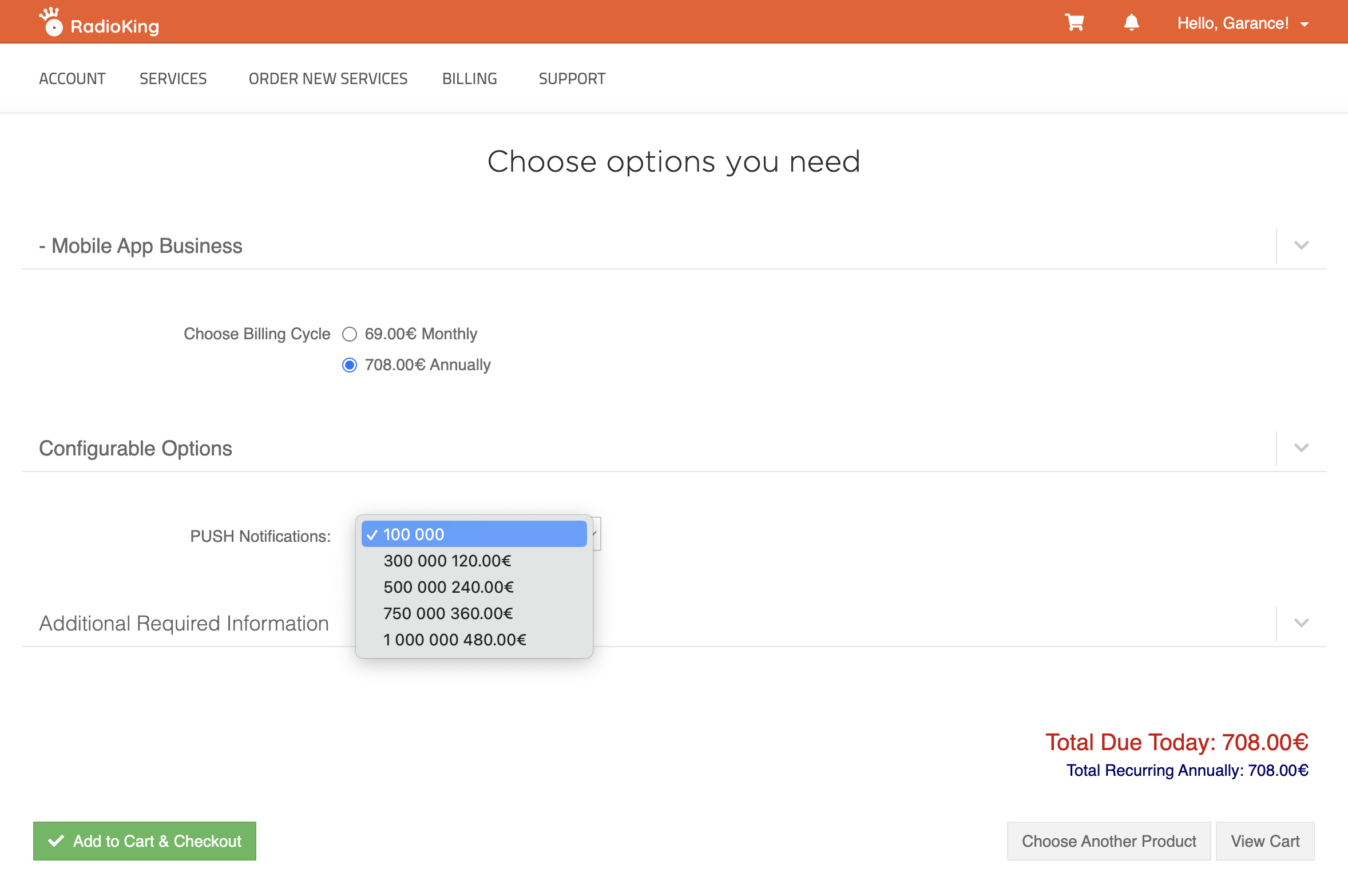 WHAT'S NEXT?

You have to launch the creation of your developer accounts!

Once your accounts are created, you can start the publication process. Our video tutorials will show you all the steps you have to follow in great details:
- Publish your Android mobile app on the Play Store
- Publish your iOS mobile app on the App Store