Our service allows you to host and create an application dedicated to your radio.
We accompany you every step of the way with our tutorials.
You own the application, but there are some things you need to know in order to be able to publish and maintain your application on iOS and/or Android.
Create your developer accounts : Apple and Google's usage policies do not allow us to publish your application on our accounts. You must therefore have an Apple developer account to publish your app on iOS and/or a Google Play developer account to publish your app on Android. Developer accounts are not free: 99€/year for Apple and 25$ (one time, for lifetime use) for Google.
Check out our tutorials to help you create your accounts:
- How to create a Google Play developer account
- How to create an Apple developer account
It is possible that Apple will refuse to publish your application because of their Guideline 5.2.3 Legal. In this case, you just need to send proof that you have the right to use the music content you are releasing. This documentation should be either a letter of confirmation from the intellectual property rights holder or a copy of the applicable licence provided by the copyright organisation in the country from which you are broadcasting.
To find out more about broadcasting rights, please click on this link.
Please note: As your application is on your own developer account, we are not notified.
Google informs you directly, so remember to check your e-mail and update your application at least once a year !
Update your application. Google and Apple will normally notify you by email in advance, but they offer fairly regular updates that you must do to ensure that your application is not removed from their platforms.
Even without this, we advise you to update your application at least once a year.
To do so, we invite you to follow these different steps:
Go to your Customer Area → My apps > Publish my app.
Click on the update arrow, validate the form and then follow the update process.


You don't have time or you need more help ?
Our team can take care of the publication of your application (this option is valid for one publication). We charge €59/$69/£49 per store for this service.
However, our team will need access to your developer accounts in order to take over. If proofs are required by Google and Apple, our team cannot do this for you, you will need to be able to provide them.
If you wish to modify your application :
Thanks to the Mobile Simulator you can modify the content of your application as many times as you wish. The changes will be visible immediately on all your listeners' smartphones.
Only the application icon, the loading page and the publication information cannot be changed at any time and require a new publication.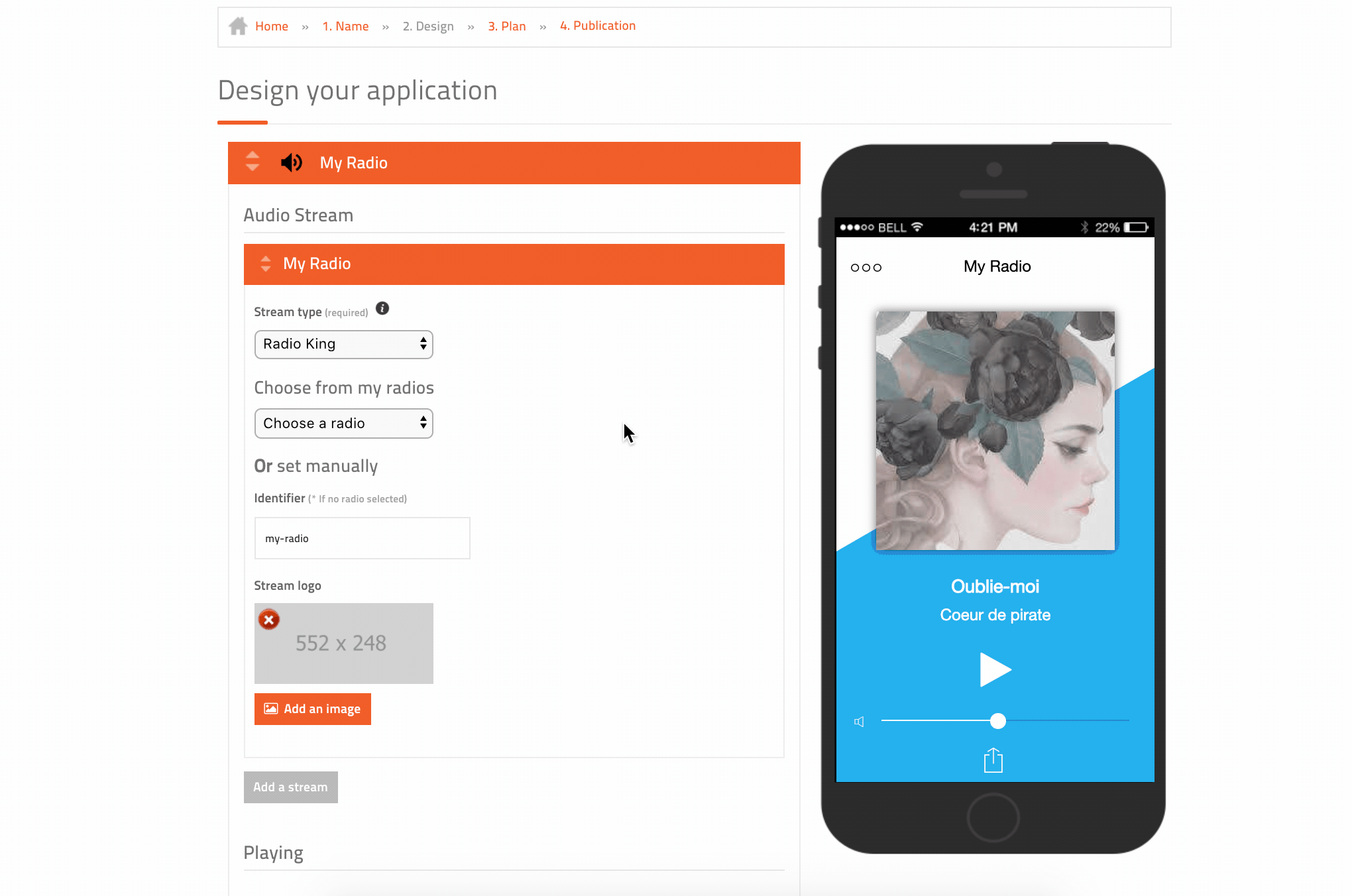 Feel free to follow our creation guide to learn more about creating your application.